How to Engage (and Keep) top SDRs for your SaaS Program
Create a top-tier team of high performance Sales Development Representatives driving outbound prospecting
As organizations relalign and navigate throught the Great Resignation, SaaS businesses find it challenging to build and create a high-performing Sales Development / Inside Sales program. It's a demanding position that requires a comprehensive set of skills such as knowledge of the software industry and IT matters, client engagement, high resilience to rejection, etc. SDRs have an average tenure of 1.5x years, according to studies.
SDRs create genuine interest in your solution and collect useful information to prepare the successful closing of the sale. These critical activities in the sales process are often not providing enough recognition and credit for the opportunities they are developing, and they end up dropping off or choosing another path, hopefully providing them the genuine credit and engagement they are seeking.
So how to find (and keep!) SDRs to handle outbound prospecting activities for your SaaS business?
In this article, we will cover:
What makes a good SDR?
Why do SDRs leave?
How to retain high performing SDRs
A more sustainable model/strategy for lead generation
What makes a good SDR?
SDR activities can look slightly different in every company, but generally, they are in charge of generating, qualifying, and nurturing leads. Moreover, SDRs are most likely the first person your prospective client interacts with; they are the representative and face of your business and set the first impression of your brand.
They are essential in the sales process. And if you hire the wrong person, it will adversely impact your business in one or more areas - brand image, time, and resources.
So what should you be looking for when hiring an SDR? Here are a few key attributes you should seek when conducting interviews.
Patience and empathy
Like every sales rep, SDRs must be good listeners who can initiate meaningful conversations. They will often engage with cold leads with little or no awareness of your service or solution. It takes patience and time to uncover needs and pain points to determine if the prospect fits your ICP and if there is a genuine interest in your solution.
SDRs identify and acknowledge a prospect's position and circumstances. They excel in building connection and confidence while positioning your organization's services as a solution to their challenges. They prepare the foundation of the business relationship until the prospect is qualified and ready to connect further with a Sales Executive.
Resilience and consistency
There is a lot of rejection involved in an SDR role. They are going to be ignored, shut down, and they are going to hear 'No' more than 'Yes'. Not personally taking rejection is essential to remain motivated, positive, and confident in the process and her capabilities.
Having a structured prospection methodology is essential to keep SDRs achieving and inspired. An ideal SDR is prepared to deliver proper responses to rejections and communicate in a consistent and structured manner.
Coachability and eagerness to learn
Today, most SDRs usually have less professional experience in their backgrounds or are just getting started in their sales career, leading to more flexibility and opportunity to instruct them in your organization's distinctive practices. But you must genuinely invest the time and effort to coach and support their tangible and measured progress.
High-performing SDRs are eager and quick to learn. They are champions of change in directions and know how to incorporate feedback to make those changes more meaningful for both the customer and the organization.
Curiosity and confidence
SDRs must be curious about your product. With your support, they must keep up with new features and updates to always align with your value proposition. On the other hand, they must also be genuinely interested in the client's unique context and challenges.
On top of that, because SDRs are usually beginners in the sales game, they need to be confident enough to talk and sell to seniors with more experience on an equal foot. They know what questions to ask to uncover a need and show value to prospects.
Why do sales reps leave?
According to the Bridge Group, the average turnover rate for SDRs is 34%. They also have one of the shortest tenures in sales teams, staying for 12-15 months in a position before exiting or moving up to a new and more prominent role.
High SDR turnover is a tremendous waste of time and resources in sales. Moreover, employee turnover can negatively influence your other employees' motivation levels. After searching, screening, and interviewing candidates, it takes up to three months of ramp-up time before SDRs start effectively delivering results.
The top five reasons why SDRs leave their job:
Not feeling valued.

Compensation is too low

Lack of options for career development and advancement

Overwhelmed by the workload

Objectives and expectations are unclear
Let's have a look at how to tackle these causes.
How to retain high performing SDRs
Building and maintaining a team of seasoned SDRs that fill your sales pipeline isn't an easy task. Here are some guidelines to retain high-performing salespeople.
Mindful and Manageable SDR onboarding.
Comprehensive onboarding is essential for SDR functions. You must ensure they are prepared to take their first calls successfully and gain some small wins from the beginning so they don't get discouraged. Prepare and train SDRs with real-life situations, record them, and make sure they self-assess their performance.
Your sales playbook should be at the heart of any SDR onboarding. Instead of driving SDRs to consume vast amounts of information, break down the onboarding into manageable and attainable milestones.
Celebrate achievements
More often than not, SDRs' do not receive the same recognition as their counterparts - i.e., Account Executives and other sales or account management functions. For this reason, many end up dropping off or fast opting for jobs with higher rewards and recognition.
SDR activities kick off all other sales activities; all sales functions and sales leaders should be mindful of this. Reward SDRs according to their efforts and accomplishments, and acknowledge even the small achievements.
Communication and expectations
If SDRs are not performing according to planned expectations, communication or clear objectives might be an issue. Make sure the targets you set are realistic and consider the scope of action of SDRs – i.e., outreach, qualification, appointment setting.
Plan one-to-one check-ins to listen to their concerns and plan and document actions accordingly. Objectives must always be clear and attainable.
Pay them what they're worth based on performance.
Because it's an entry-level job, SDRs' remuneration is often less significant than other sales positions. However, if an SDR's effort leads to new business, she must be reasonably compensated accordingly. Offer rewards for reaching objectives and consider implementing incentives or accelerators for surpassing goals.
Have a coaching and development plan
SDRs are usually interested in careers in sales; most see this position as a stepping stone to accessing higher-level and higher-paying roles. Genuinely supporting and developing your SDRs towards longer-term career objectives will benefit everyone on multiple levels. So take this as an opportunity to improve retention in your company while leveling up your future higher-level sales developers. It's a win-win and the right thing to do.
Build a structure and training methodology that allows people to learn, grow and hone their sales skills. Have a clear career development plan that rewards high-performing individuals with opportunities for bigger roles and responsibilities.
Automate or outsource time-consuming tasks
A Forbes study showed that sales support functions spend less than half of their time performing sales activities. But you didn't hire a promising SDR, so she spends her time digging through spreadsheets of data or calling or emailing obsolete or unnecessary prospects or contacts.
Provide your SDRs with performance tools to make their job easier and let them focus on what they do best: engaging prospects and opportunities. Automating email, contact research, and
Sustainable options for lead generation and sales support functions
Traditionally, SDRs are more likely to be hired based on motivation and soft skills than previous experience. Today, this holds more than ever in our "Great Resignation" global job market. It's arguably one of the most challenging profiles to sustain and develop in sales because if you don't have the experience or capabilities to build and retain a producing team of SDRs successfully, there's a likelihood you will be straining resources, time, and money.
There are proven and possibly more viable options than recruiting, training, and developing an in-house SDR Team for your organization. Inside Sales and Sales Specialists outsourcing models can take the responsibility off your business and let you grow your sales without investing in scaling an entire team. Outsourced SDRs and sales support specialists can be ramped-up based on your needs and levels of engagement that offer greater flexibility.
Learn more about sales outsourcing for the SaaS industry with one of our experts. Book a short meeting today!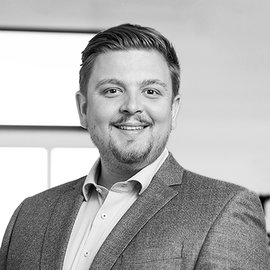 With his vast experience in the sales and Inside Sales industry, Julien is globally acquiring new customers and winning projects for Salescode. Mostly engaging in high headcount project bids, he is the first wave of expertise, when working with Salescode. Knowing all global markets he is our go-to-professional for strategy and structure to generate value for our clients.
Click here to connect with Julien on LinkedIn.